3 Italian recipes to do at home
Culinary specialties represent one of the greatest wealth of Italian culture. This country is well known in the world for its dishes that make our taste buds travel. Among other things, we owe him the recipe for pizza, Bolognese spaghetti dish, but that's not all ! From Recipes of Italian cuisine, We also find that of the risotto, lasagna and the Milanese cutlet.
The risotto
The risotto is a cream of creamy rice, from Italy. It is generally cooked with mushrooms, and several other ingredients that make it a very rich and very nourishing dish. It is also a pure delight, which you can easily make at home.
Ingredients
If you want to make a mushroom risotto dish at home, you will need the following ingredients for four people:
10 cl of white wine
1 butter nut
250 g of Risotto special arborio rice
3 branches of parsley
300 g of mushrooms
1 tablespoon of olive oil
1 clove of garlic
1 onion
2 vegetable broth cubes
100 g of parmesan
Pepper
Salt
15 cl fresh cream.
Preparation
For Risotto prepare, The first step is to cook the mushrooms. To do this, rinse them first, wipe them, and then you can detail them in large pieces. Fry a chopped garlic clove in a pan with melted butter, for 2 min. Add the mushrooms and cook for 3 min. Add the crumbled parsley with 3 tablespoons of white wine.
After an additional 2 min, you can add the cream, salt and pepper.
Then you will have to take care of the preparation of the rice. At this level, you will have to dilute the broth cubes in 1 liter of water to boil. Brown the onions in olive oil for 3 min, in a frying pan.
Add the rice and mix for 2 min. Add a half glass of white wine, and let the rice absorb it. Then, do the same with a ladle of broth at a time, until you exhaust all the contents of the pan (1Litre).
At this level you can add the previously cooked fungus, and half of the Parmesan. After 2 min, mix everything and serve hot with the other half of the Parmesan.
Lasagna
Lasagna is undoubtedly theOne of the Italian specialties that everyone loves. You can therefore offer it on the menu during a special Italy evening with family or friends. It is quite easy to make, but still requires enough time.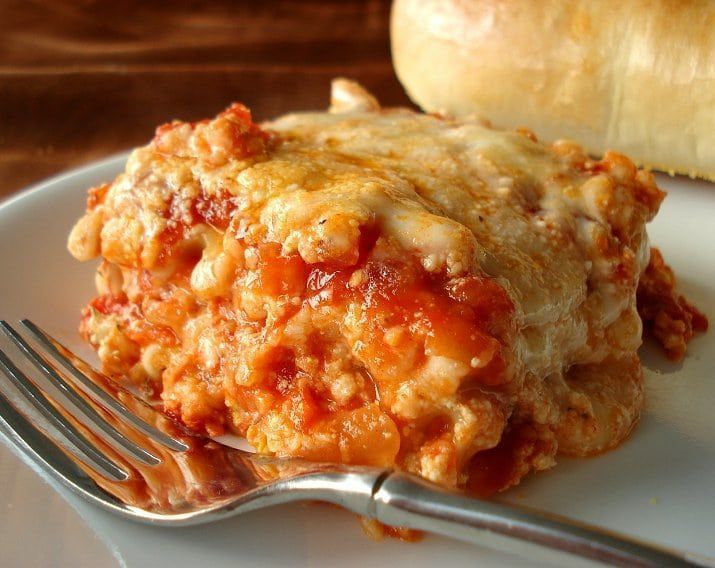 Ingredients
To make a lasagna dish at home, you will need the following ingredients for 6 people:
300 g chopped beef
2 tablespoons of olive oil
2 pieces of sugar
1 clove of garlic
1 onion
8 lasagna plates
800 g canned tomato pulp
Grated emmental
Salt
Pepper
Aromatic herbs.
In addition to all this, it will be necessary to provide ingredients to make the béchamel. You will therefore need:
50 cl of milk
70 g flour
70 g butter
1 pinch of nutmeg.
Preparation
For the preparation of this dish, it will be necessary to cook separately, the lasagna, the tomato sauce with minced meat, and the béchamel. Then, at the end, you will only have to mount them layer by layer in a suitable bowl. You can add grated parmesan or mushroom strips before putting everything in the oven at 165 ° C for 45 min.
L'Milanese cutlet
The Milanese cutlet is a Italian dish Who puts everyone in agreement, both children and the older ones. So, in addition to being an easy and quick to make, it will be ideal for family meals.
Ingredients
If you want to make a Milanese cutting dish for 4 people, you will need the following ingredients:
Gluten -free or gluten -free flour if you prefer
2 eggs
200 g of breadcrumbs
4 veal cutlets
Lemon
Salt
Butter
Grated parmesan
Pepper.
Preparation
Here you must prepare three plates:
One that contains beaten eggs as for an omelette with a tablespoon of oil
One that contains a mixture of grated parmesan and breadcrumbs
And one last with flour.
So just dip your cutlets in each plate, before frying each side in a pan with a mixture of oil and butter. It's that simple !
You can now organize evenings or lunches on the Italian cuisine theme your house. All these recipes are easy to make, and appreciated by all.